---
Yamaha CG-TA TransAcoustic classical nylon-string guitars transport you to new creative spaces with immersive reverb and lush chorus effects, without needing an amp or other external gear. The only nylon-string TransAcoustic model, the CG-TA has ovangkol back and sides, yielding rich, focused tone and traditional elegance. Comfortable string height and neck design offer superior playability.
Classical body with nylon strings
Solid spruce top
Ovangkol back and sides
On-board reverb and chorus effects – no need for an amp or other external gear
Actuator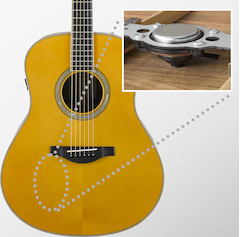 An actuator installed on the inner surface of the guitar back vibrates in response to the vibrations of the strings. The vibrations of the actuator are then conveyed to the body of the guitar, and to the air in and around the guitar body, generating authentic reverb and chorus sounds from inside the body.
Simple Controls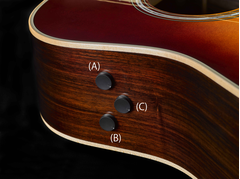 Three simple knobs let you adjust the degree of effect applied and the lineout volume level. Additionally, keeping the controls small minimizes the area of the holes in the body material, reducing acoustic sound loss.
(A) Chorus Control
(B) Reverb Control (Room / Hall)
(C) TA Switch / Line Out Volume Control
* Pressing the TA Switch for more than 0.3 
activates the TA function.
Newly Designed Battery Box
Battery box integrated into the end-pin jack. This requires fewer holes in the body, thus reducing acoustic sound loss. Connect the cable from the jack to a PA or amp to use as an acoustic electric guitar.
Testimonials
4.5 Stars on Google
Today was an exceptional customer experience at Arties music. Bought my guitar their close to two years ago. Had a issue with it and took it in. It was replaced without any of the usual haggle. Thanks Arties. Your service is exceptional and I'll keep coming back. Highly recommend
Friendly staff and professional service, purchased a Maton Guitar recently and they gave me a great price! Love shopping at Arties!
I used the online order and pick up option for the first time. The level of communication about my order status was great and the music book actually arrived earlier than expected. The guys were busy when it was time to pick up my order yet engaged with all customers so you felt acknowledged while waiting. Really great work team, well done!